Solar Panel Cleaning in Calabasas, California
Do solar panels in Calabasas need to be cleaned? Many industry professionals will agree that solar panels need to be cleaned periodically in order to produce the best results. Dingy solar panels are known to produce less electricity. Check with your solar manufacturer's warranty. Some will specify that your panels need to be cleaned in order for the warranty to be valid. LA Blast Away provides safe, efficient solar panel cleaning in Calabasas, California. Call (818) 873-2969 for a free, reasonable price. When you call LA Blast Away you can stay safely on the ground while our trusted solar panel cleaning technicians take care of the panels on your roof!
---
Call for a FREE Quote
---
When Calabasas Solar Panel Cleaning is Necessary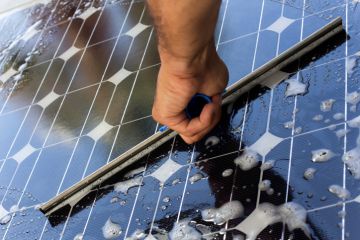 Just as sun roofs and sky lights become dirty, solar panels do too. With local moderate to low levels of precipitation, cleaning your solar panels in Calabasas periodically is important in order to remove built up pollen and debris. If your solar panels are located near trees or if you've got birds flying over your property, you may need more frequent panel cleanings. Call Calabasas's solar panel cleaners of choice today at (818) 873-2969, and we'll have your panels clean and working optimally in no time.
Safe Solar Panel Cleaning in Calabasas
LA Blast Away is experienced in cleaning solar panels. Although cleaning solar panels is not very different than cleaning regular windows, the challenge is that most panels are located on rooftops, increasing the degree of danger to the process. Additionally, the panels must be protected from abrasive substances. LA Blast Away's Calabasas solar cleaning technicians use a gentle solution and non abrasive equipment to remove accumulated grime and even bird droppings, from the surface of your panels. For solar panel cleaning that keeps consumers safe while protecting the surface of the panels, leave it to the pros at LA Blast Away. Call today for a free estimate at (818) 873-2969.
Clean Panels Produce More Energy
Panels that have accumulated dirt and grim can lose up to 25% of their efficiency. Substances on the panels reduce the amount of sunlight hitting them. Solar panels that are tilted, rather than flat are more easily kept clean with normal rainfall. Flat panels tend to accumulate more debris. LA Blast Away helps local homeowners and businesses increase the energy efficiency of their building in Calabasas by keeping tier solar panels cleaned at a great price.
---
Call for FREE Solar Panel Cleaning Quote
---
WHAT CUSTOMERS ARE SAYING:
5★★★★★ - "LA Blast Away is the real deal. When I call for pressure washing services, Chico actually answers the phone! They are professional and diligent."

Diane

2021-11-18

5★★★★★ - "The best company to do business with I highly recommend."

Rachel B., Pool Deck & Patio Cleaning in Encino, CA

2021-11-17

5★★★★★ - "LA Blast Away is the real deal. When I call for pressure washing services, Chico actually answers the phone! They are professional and diligent."

Roee E., Pressure Washing in Anaheim, CA

2021-11-17