Solar Panel Cleaning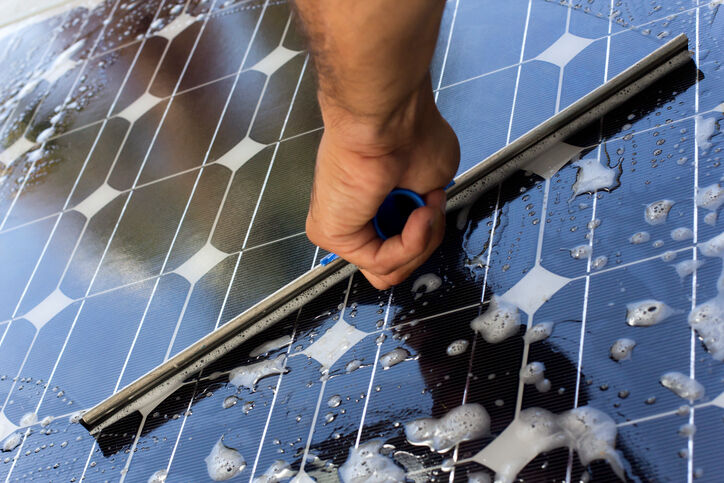 Do solar panels need to be cleaned? Most solar industry experts will say "yes". Solar panels need to be cleaned periodically in order to produce the best results for you. Dirty solar panels produce less electricity. Depending on your location, your solar manufacturer's warranty may specify that your panels must be regularly cleaned. LA Blast Away provides solar panel cleaning throughout the area. Call (818) 873-2969 for a free, reasonable quote, and stay safe on the ground while our trusted cleaning experts take care of the panels on your roof!
---
Call for a FREE Quote
---
When Solar Panel Cleaning is Necessary
Just as skylights and windows become dirty, solar panels do as well. If you live in an area that had moderate to low levels of precipitation, cleaning them will be important to clear away build-up of dirt, pollen, and debris. If your panels were installed near trees or if there are many birds in your area, you may need more frequent panel cleanings. Areas near the sea can accumulate corrosive salt.
Safe Solar Cleaning
LA Blast Away is well-trained in cleaning area solar panels. Although cleaning solar panels isn't much different than cleaning regular windows, most panels are secured to rooftops, adding an element of danger to the process. In addition, the panels themselves must be protected from abrasion. Our cleaning technicians use a gentle solution and non-abrasive equipment to remove accumulated dirt and grime and even bird droppings while protecting the surface of your panels. For solar panel cleaning that keeps residents safe and protects the panels, leave it to the experts at LA Blast Away. Call today for a free, no-obligation quote at (818) 873-2969.
Clean Panels Produce More Energy
Panels that have accumulated dirt and grim can lose up to 25% of their efficiency. Substances on the panels reduce the amount of sunlight hitting them. Solar panels that are tilted, rather than flat are more easily kept clean with normal rainfall. Flat panels tend to accumulate more debris. LA Blast Away helps local homeowners and businesses increase their energy efficiency at a great price.
---
Call for Fast FREE Quote
---