Play Set Pressure Washing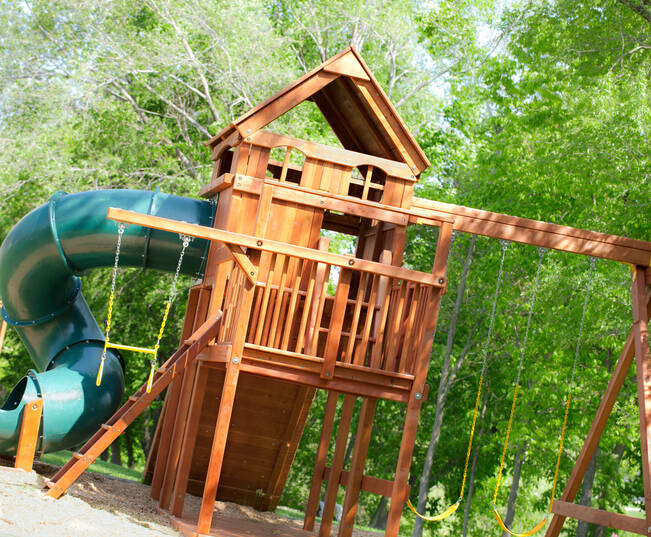 The joy of playing outdoors never seems to get old. Remember when you used to spend hours soaring through the air on swings and climbing to the tops of play sets until your parents said that it was time to go indoors. While today's playground equipment has a modern look, it still evokes the same happiness as the play set of your generation. Regular cleaning keeps this equipment looking its best year after year. LA Blast Away has been reviving wooden and plastic play sets at homes and parks since 2000. Call us today at (818) 873-2969 for a quote.
---
Call for a FREE Quote
---
Keep Playsets Clean with LA Blast Away's Pressure Washing
Modern playsets are built to last, but they take a lot of abuse from the outdoor elements. Colorful plastic playhouses and slides attract mold and mildew, which makes them look like they are ready for the city dump. LA Blast Away's experts use commercial-grade pressure washers and detergents to easily resurrect the appearance of your child's playset. While these playsets are made from durable materials, the equipment's color can fade after spending years exposed to direct sunlight. The good news is that you can paint the set to renew its color. Our power washing treatments prepare old plastic playsets for the paints that make them look like new again.
Professional Playset Pressure Washing
Wooden playsets enhance the look of your backyard and keep your children amused for hours. Like all wooden structures, these playsets require periodic maintenance and cleaning to remain presentable. Rather than spending an afternoon scrubbing your child's playhouse and swing set with a soft bristle brush and cleansers that aren't made for wooden structures, you can call us for a hassle-free play set pressure washing treatment. Our power washing experts know how to quickly remove ground-in dirt and mold to reveal the beauty of your wooden playset.
Benefits of Regular Pressure Washing for Playsets
Our playset cleaning service prepares wooden swings and playhouses for new stains and finishes. This kind of maintenance helps to preserve your play set's structure. With our pressure washing treatment, your wooden playset will be ready for the next generation of power rangers, princesses, and cowboys. Consider our structure pressure washing treatment when you schedule other power washing services with us. Call us at (818) 873-2969 to find out more about our pressure washing services.
---
Call for Fast FREE Quote
---